Meet the Team
Meet our driven, passionate and dynamic team! We are here to guide you every step of the way.
Béatrice Baudinet
Real Estate Broker
Top 1% in Canada for Royal LePage since 2014
Béatrice started her career in 2008 specializing in residential real estate. Her expertise has now expanded to include commercial properties, luxury real estate, upscale condominiums and rentals, property management, relocation services and various investments opportunities.
Her commitment to excellence is renowned and recognized. She has been a Diamond Award Winner 8 years in a row from 2009-2017. She is No.3 in Quebec for Royal Lepage Individual Sales, she has won MLC Awards for "Consistent and Above Average Production","Top Listing and Selling Agent" in terms of Total Value, and "Top Listing in Dollar Volume".
Béatrice and her team have been bestowed with the National Chairman's Club Award, representing the top 1% in Canada for Royal Lepage four years in row, from 2014-2017. The team is also part of the Top 10 best teams in Quebec . Her team share the same set of exceptional values and unparalled customer service
Béatrice believes "Everyone needs a home, no matter their budget". Anyone who has worked with her can testify for her honesty and perseverance. She goes above and beyond the the call of duty with her hands-on approach.
Contact the team
Daphne Pungartnik
Residential & Commercial Real Estate Broker
Daphne's experience in real estate begun at a very young age due to her mother's success in the field. Full of compassion and culture, Daphne has travelled to over 30 countries. A natural born leader, she volunteered as the head of a women's empowerment group in Kenya, and the winner of the award for most Community work in 2008 here in Montreal. She is surrounded by a family of real estate agents. Daphne is a strong willed and detail oriented real estate broker. She takes great pride in her work and is currently building her portfolio with fierce determination. Daphne enjoys working with people and takes her clients' needs to heart, always looking to the best way to suit their requests.
Contact the team
Tanya MacGillivray
Residential Real Estate Broker & Assistant
Tanya has started her real estate career 4 years ago. She truly found her niche and will always make sure to put all of our clients needs first. Her passion for this industry started when her family started investing in condos in Florida and Venezuela to revenue properties in Montreal. Tanya is very well known for her calm and empathetic nature which makes her a trustworthy person. She believes in handling every single transaction with a unique touch as no one transaction is the same. She is also well travelled which makes her a very understanding and compassionate person. Her professional and academic background is very vast but they all include amazing customer service and values.
Contact the team
We love working with your team. You are so organized and professional. It is really appreciated. We are proud to be represented by you. Keep up the good work!
It takes a professional to sell a house, particularly when the unexpected occurs. Béatrice Baudinet and her team are professional, reliable and steadfast.
Team Béatrice Baudinet went above and beyond what we were expecting. Given our short timescale, they helped us greatly to understand the Westmount/NDG market and to find us the perfect place for our family. Team Béatrice Baudinet showed great flexibility and professionalism at all times, were extremely responsive to our questions and demands and we would be happy to work with them again in the future.
I was introduced to the team after they sold my mother's home seamlessly and without incident. As I was a first time home buyer it was very important for me to work with someone who not only knew the business and the intricacies of the laws and regulations pertaining to such an investment but also someone who listened to what I was asking for and worked tirelessly to find me the home of my dreams. My experience with Team Béatrice Baudinet was outstanding; they are knowledgeable; conscientious; professional and their attention to detail is unparalleled.

The entire home buying experience can be so overwhelming but having them to walk me through each step of the way was imperative; their expertise is outstanding. In dealing with Team Béatrice Baudinet it's very clear that they've taken this position on as a career and not a job which is the sort of commitment needed to navigate this industry.

I cannot recommend Team Béatrice Baudinet enough and will definitely work with them again for my future Real Estate transactions.
I couldn't have asked for a better realtor and team! As a first time home buyer I was very pleased working with Team Béatrice Baudinet. They walked me through the important procedures when it comes to buying and protecting myself in purchasing a home. They found me the perfect property within my budget and guided me through the inspection process. A very professional and personal service! Thank you very much Team Béatrice Baudinet for being there every step of the way.
We found the perfect house with Team Béatrice Baudinet. As first time home buyers, they guided us, provided thoughtful insight into the neighbourhoods and homes we looked at, and made the deal happen through their patience, honesty and persistence. I would definitely recommend Team Béatrice Baudinet and would work with them again.
Our Awards
Winning isn't everything but it sure is nice! We are honored to be recognized by our peers and proudly display the awards we have acquired throughout the years
Royal Lepage National Chairman's Club Award
2014-2018
The top one percent of the Royal LePage residential sales force as of a designated period, based on closed and collected commissions.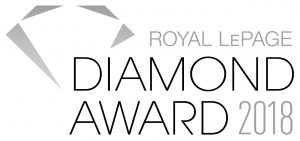 Royal Lepage Diamond Award
2009-2018
The threshold level required to attain the Diamond Award is the top three percent of each residential market's sales representatives' earnings. Earnings are defined as gross closed and collected commissions in the preceding year.
Royal Lepage Top 10 Award
2014-2018
Recognizes ten Royal LePage residential sales force teams and ten Royal LePage residential sales individuals, in ranking order of earnings, as of a designated period, based on closed and collected commissions.
Lifetime Award of Excellence
2018
The Lifetime Award of Excellence is presented to those who achieve the Royal LePage President's Gold Award, 10 out of 14 consecutive years in standing.
Advertising
Here are the media we use to advertise your property.